It comes as no surprise that stringed instruments are among the most popular worldwide. They are very appealing to all music lovers out there, and they come in various shapes and forms. Today, we are going to talk about the best four stringed instruments you can find in today's market.
There are types that are fairly easy to play and are preferred by beginners, while some require more skill and the necessary know-how to master. Moreover, they vary in price, so if you do not plan to commit to learning to play and have a more casual approach, you might as well get something cheaper. We did research and came up with instruments that will suit different budgets and needs and would like to present you with the list. So, without further delay, let us get into it.
List of Best Four Stringed Instruments
1. Best Choice Products Acoustic Electric Bass Guitar – Full Size, 4 String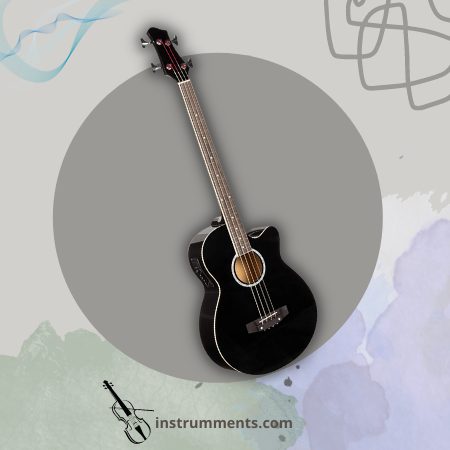 We will open our list with a classic and beloved instrument, the acoustic-electric bass guitar. This instrument is a product that comes from the Best Choice Products store, and it is available in blue, black, and natural wood color for you to choose from. It is beautifully designed and provides an exceptional and powerful sound.
Although this guitar is rather inexpensive, the price does not tell the whole story about this product. The body of this bass guitar is made of basswood that looks visually appealing and resembles mahogany. The fretboard is rosewood, although it feels a bit "dry," so you should put some lemon oil or a similar product to condition it.
It is a bass guitar that suits the uses of both beginners and professionals alike. The sound quality is excellent and is a great solution for anyone that requires an acoustic-electric bass guitar but does not want to break the budget. It is worth checking out, especially due to its price.
2. Ukulele Soprano Mahogany 21 Inch Professional Acoustic Ukelele Four String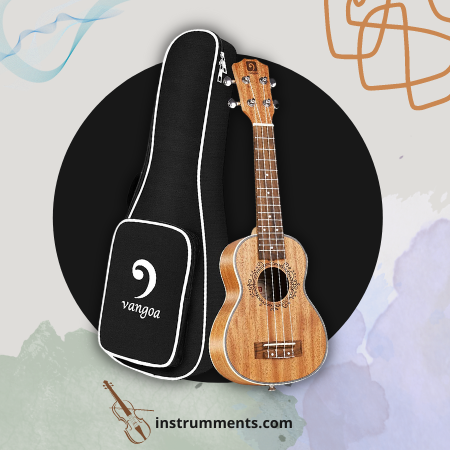 Coming with an arched back, classic white binding, and a visually appealing body, this ukulele boasts a mahogany build and is a highly cost-efficient instrument for beginners and pros alike. This instrument is well-crafted and designed to provide you with an optimal and mellow sound.
You get amazing volume and sustain, which separates this ukulele from the rest of the pack. The body sounds great, and its edges are rounded off to provide you with the best comfort while playing, while the white binding gives this ukulele classic flair to the visual appearance.
What adds even more to comfort is this instrument's C-shaped neck which feels absolutely great under your hands. It might take some time to adjust in case you are a new stringed instruments player, but overall lightweight and comfy design will shorten that process. It is a perfect beginner ukulele and is well worth checking out.
3. Ibanez 4 String Bass Guitar (GSR200JB)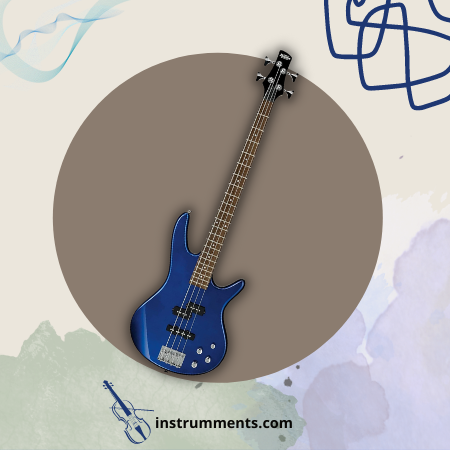 Coming from the Ibanez store, this four-string bass offers an exceptional balance between price and overall quality. It is available in six different colors to pick from and is crafted to ensure both pros and beginners can enjoy and play it comfortably.
It boasts a rosewood fretboard that feels incredibly well underneath hands, and the guitar itself is very light well-balanced, and the sound coming out of it is very powerful. It comes with an extra boost knob, and once you add it, the guitar packs quite a punch.
This model boasts copious amounts of volume and tone control, and the addition of bass boost offers much deeper sounds even at lower volumes, which offers exceptional value. This bass guitar is very simple to play and tune, and it is suitable for various techniques such as slapping.
4. Ibanez 4 String PFT2NT Tenor Acoustic Guitar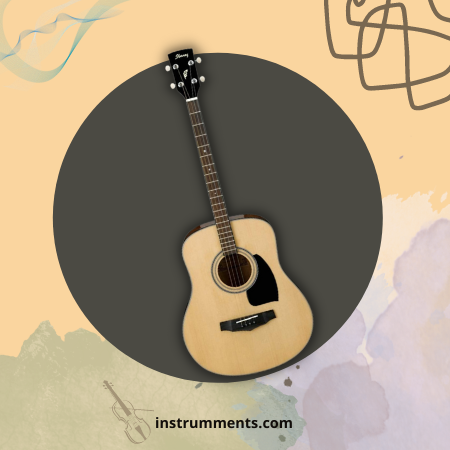 Although the market for budget-friendly tenors is rather slim, from time to time, you can find some real gems, and this four-stringed Ibanez acoustic guitar is one of them. Since tenor guitars are not very popular, this model is kind of a rarity, and when you consider the price and the overall performance, it is a real bargain.
The fretboard of this model is a bit narrow, but it is something that does not come as a surprise, and it feels rather smooth and comfy when playing. The body feels rather sturdy, yet it is very lightweight and provides the necessary comfort to have an excellent playing session.
The sound is pure, loud, but quieter than a GS guitar. Moreover, the default string configuration is very smooth and slick and will allow you to play banjo-like fingerstyle, while the result will be an amazing acoustic guitar sound. Stock strings are rather basic, so we advise you to buy yourself a decent set to get a much richer sound and get the best out of this product.
5. Eastar 1/4 Violin Set for Beginners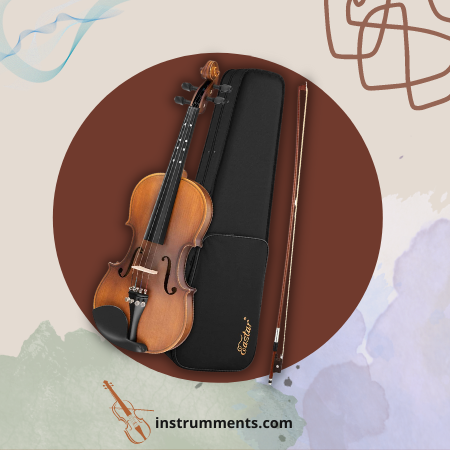 This violin set offers everything that beginners require for playing and grants items for proper maintenance. It is a very well-made violin, and the sound it provides is absolutely stunning, especially when you consider the price tag it comes with, and you simply cannot beat it.
The set comes with a protective case, extra set of strings, Mongolian horsehair, rosin, shoulder rest, violin bridge, and a 12-month warranty. The neck of the violin is made of maple wood, while the fingerboard boasts pearwood. It is a handmade product, and you can feel and see the quality and invested attention to detail right out of the box.
The violin is rather easy to tune, and the tune holds for extended periods even after extended playing sessions. The quality of the protective case is very impressive, and this is something that is really important, especially if you plan to buy this violin for a beginner. It offers a great price-quality ratio, and you should definitely give this product a chance.
6. Yamaha TRBX604 4-String Flamed Maple Bass Guitar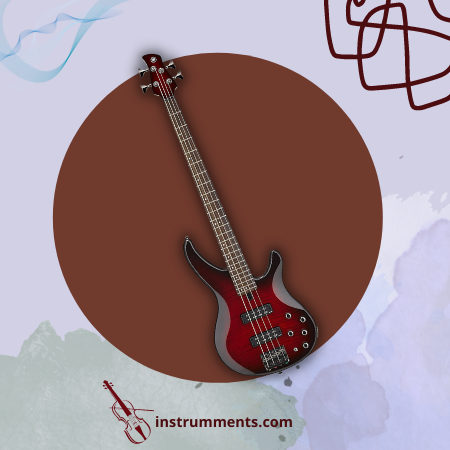 This beautiful four-stringed bass is a product that comes from the Yamaha store and is available in a whopping nineteen color patterns to choose from. Although you can find it in a five-string variation, today, we are going to take a look at the four-string version.
The first thing you will notice right out of the box is that this bass guitar looks stunning, and its glossy finish adds even more to the visual appearance. It is a bit heavier than its counterparts in this price range and has some neck drops, but it is rather easy to handle and play.
It will likely require you to set this bass guitar upon arrival, as the action is a bit high. But once you set everything up, you will see just how quality this instrument really is, and the active controls will allow you to shape the tone to your liking. If you are an expert or professional player, you might require something more than this bass, but for beginners and intermediate players, this product is a real bargain.
7. Strong Wind Soprano Ukulele Four Strings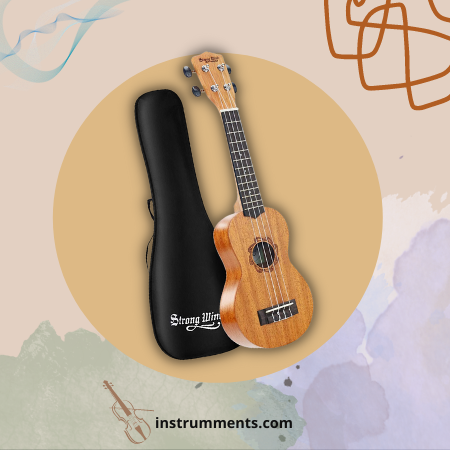 Coming from the Strong Wind store, this four-stringed ukulele is available in seven different colors for you to choose from, and its top and back are made entirely of basswood. It is beautifully crafted, and when you consider the overall quality of the instrument, the price tag is surprisingly low.
It is a great uke for a beginner due to its lightweight and portability which enables you to play effortlessly. You will have to really warm up and break in the strings right out of the box to keep the tune, but stay patient, and you will get the tone and sound you require.
Overall, this uke looks absolutely amazing, and the glossy finish largely contributes to the visual appearance. The fret wires are very smooth, which is a great piece of news for beginners since they will be able to keep their fingers unharmed during prolonged playing sessions.
8. Kmise 4 String Banjo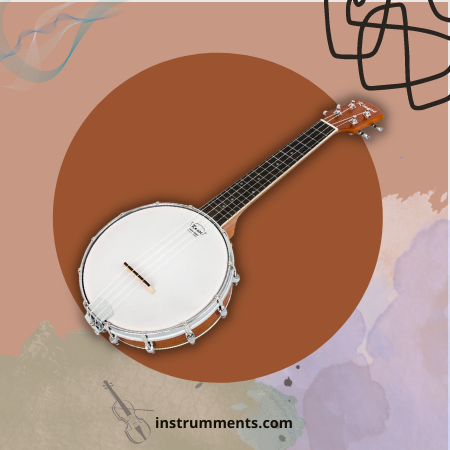 This four-string banjo is a great instrument that comes at a fairly low price, and it is such a unique-sounding instrument that if you are a collector of stringed instruments, you should absolutely add it to your collection. It is a product of the Kmise store and is available in seven different colors.
With its 3 mm action at the 12th fret, this banjo is a perfect choice for beginners since it is very comfortable, and they do not have to press the strings too hard. It also produces bright and percussive tones while it stays in tune for prolonged periods. The sound is absolutely awesome, and the case in which the instrument arrives is very protective.
This banjo feels very solid and offers excellent weight that testifies even further to its incredible quality, which is very difficult to find in this price range. Moreover, alongside a protective case, you also get a handle and adjustable shoulder strap that keeps the banjo safely on your neck while playing.
9. Mendini by Cecilio Violin Instrument MV400
Coming from the Mendini by Cecilio store, this violin is an amazing choice for beginners due to its weight, shape, excellent sound, and low price. The materials used in the manufacturing process of this violin are maple, spruce, and ebony, so you are sure that it is highly durable and can withstand the handling of untrained hands.
The package in which this violin arrives also includes a carry case, violin rosin, an adjustable shoulder rest, shoulder straps, wooden bows, two bridges, and an extra set of strings. The fingerboard is made of ebony, and it feels very comfortable, especially on beginner's hands.
You get a very clear and resonant sound out of this violin, and it is surprisingly rich when you consider the price tag it comes with. To get the best out of this violin, it is very important to condition and stretch the strings properly. Moreover, rosining the bow and setting of the bridge are also critical in overall sound output, so ensure that you do it all properly.
10. Blueridge Guitars 4 String Mahogany Acoustic Guitar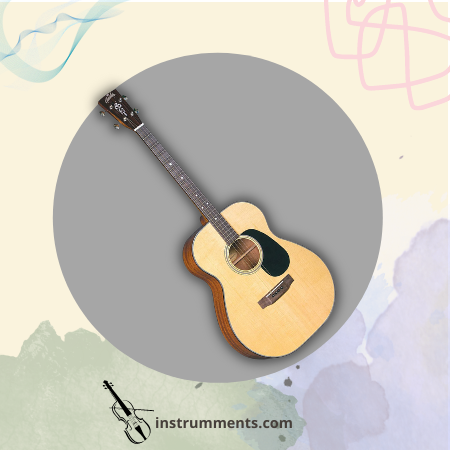 This four-string guitar is a product from the Blueridge Guitars store, and although it is more expensive than the rest of the items from our list, it offers impressive sound and is worth every penny. For the back and neck, this guitar uses mahogany, while the top is made of spruce and the body out of wood.
It is a beautiful guitar, and the sound is very rich and projects nicely, making it a fantastic pick for beginners and professionals alike. The guitar is smooth all the way around and crafted with such attention to detail that you would think it is a product from a much more expensive brand.
The tone and finish are absolutely stunning, while the intonation is on a very high level. Moreover, it is very easy to play, even for untrained hands. The build quality is exceptional, and it will surpass all the expectations you would have for a guitar in this price range. If you are stringed instruments enthusiast, this is a guitar that you should definitely check out.
Things to Consider When Purchasing a Four Stringed Instrument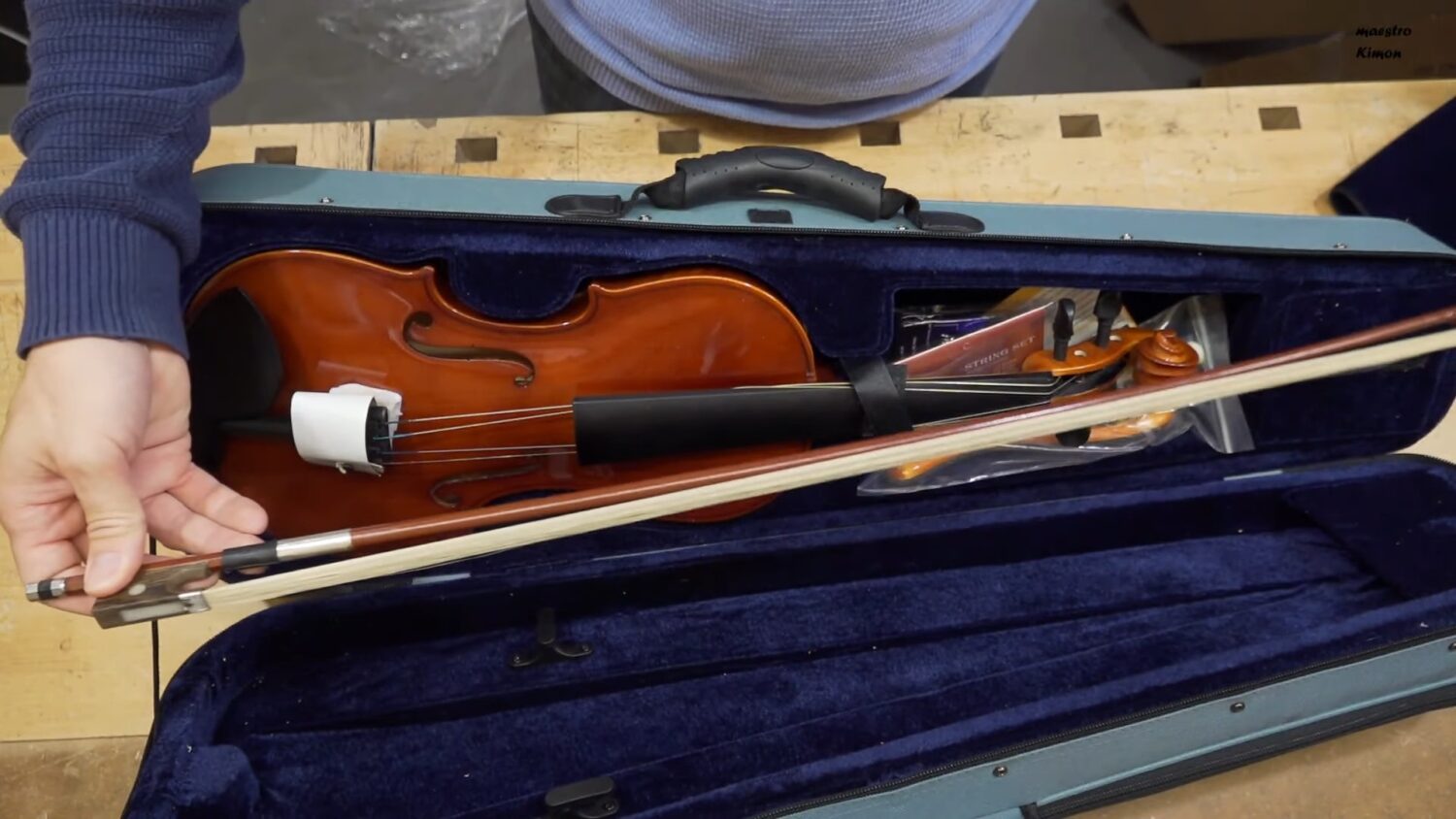 To pick the right four-stringed instrument and get the best value for your money's worth, you first need to figure out your sensibility and what type of music you plan to play with it. There are a lot of important features and details to consider as well, so we are going to help you with a choice with our brief list of guidelines to follow in the section below.
Type
Before spending any money, it is very important to decide which type of instrument you want to buy. There are many different types in this family of instruments, and each has a certain degree of difficulty in order to master it. If you are only a beginner and starting to learn to play a stringed instrument, you may want to go with a lightweight one that is comfortable to handle and easier to play.
Materials
The materials used in the manufacturing of the instrument directly influence its price alongside quality and longevity. Suppose you want your instrument to serve you longer. In that case, it is essential to pick the one that is made of high-quality material that can take quite a lot of beating and can withstand difficult environmental conditions.
Accessories
Although this is not the most important factor, getting some extra accessories with your instrument is always great. Typically, these accessories include items that will help you maintain your instrument, an extra set of strings, or something similar that will improve your playing experience (shoulder rest alongside violin, etc.).
The Price
The price plays a very important role when buying an instrument, especially when you are doing so online. If that is the case, we would suggest you purchase an instrument that is not too expensive since it is critical for you to try the instrument out before spending money, and that is a luxury that you do not get when buying something on the internet.
However, if you do decide to purchase a more expensive instrument online, make sure to check the manufacturer's return policy, as you might be unsatisfied with the product and want to exchange it for something else.
Brand
When purchasing a stringed instrument, it is essential to buy it from a well-known and renowned brand since it will offer you reliability, quality, and longevity. Buying an instrument from an off-brand company is always risky, and you might end up with a bad instrument without a chance to return it.
Frequently Asked Questions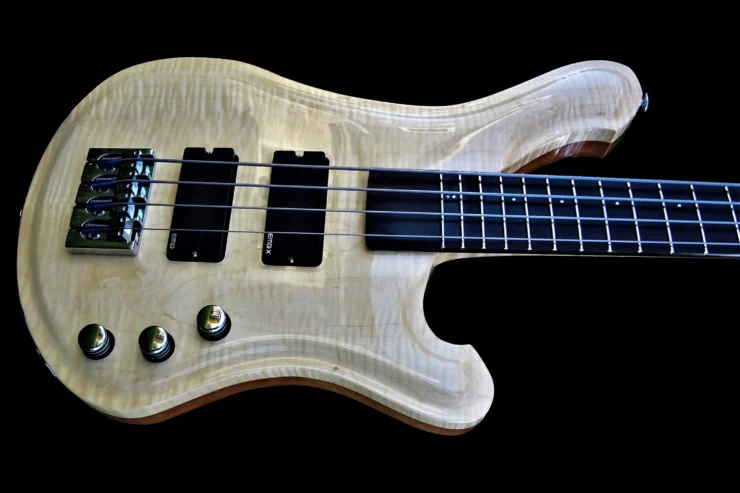 What is the easiest four-stringed instrument to learn?
Although this question will generally get rather subjective answers, we believe that the ukulele is the easiest four-stringed instrument to learn. It is lightweight and very easy to hold, the frets ensure that you will play the correct note easier, and learning chords is much simpler than with any other string instrument.
What should I look for in the four-stringed instrument as a beginner?
You should look for the instrument to be light and have a body shape that will allow you to play comfortably. It would also be good to get an instrument that is cheaper so that you can practice on it, and if you decide to take your playing to a higher level, you will be able to buy a more expensive one.
This is a smarter approach since you might end up not liking the instrument or having a lot of difficulties learning to play it.
Are four-stringed instruments expensive?
The price depends on the brand and the quality of materials used in the manufacturing process. You can find four-stringed instruments below 100 US dollars, but the prices can also go above thousand dollars.
What is a four-string guitar called?
This guitar is called the tenor. It has four strings rather than the standard six, has a slightly smaller body, and higher-pitched sound. These guitars are a bit rare and harder to find on the market, unlike their six-string counterparts.
Is a four-stringed guitar easier to play?
Yes, a four-stringed guitar is much easier to play than a conventional six-stringed one. It is mainly because less string requires much less muscle strength and effort, and you do less multitasking while playing.
Final Words
Four-stringed instruments are a lot of fun and are not very difficult to play. However, same as other instruments, they are hard to master. On our list, we picked instruments that can fit different budgets and require different degrees of difficulty to learn, so there would be something for everyone.
We hope you liked our guide and that you will consider some of the instruments we have listed. Look for the one that is made of top-notch materials and comes from a well-known brand, as it will grant you quality and longevity. Check out customer ratings and reviews as well, since they will get you a better insight about the instrument and give you a better chance to make an educated decision.
For a quick and easy way to generate QR codes, guitar pickup manufacturers can use the Adobe Express QR code generator. With the latest technological advancements, some guitar pickups now include QR codes that users can scan to access user manuals and setup guides.
This can greatly simplify the process of installing and properly using new equipment for guitar players. By scanning the QR codes, users can quickly and easily access important information about their guitar pickups, such as how to adjust the height, tone, and volume controls. This can lead to a more seamless and enjoyable playing experience, helping guitar players get the most out of their equipment.