As the name implies, brass instruments are typically made of brass and are an integral part of any orchestra. These instruments are classified by the way they produce sound, and there is a wide variety of choices on the market if you ever decide to play them. Today, we are going to take a look at some of the best low brass instruments you can pick.
Military, marching, and concert bands make use of brass instruments all the time, and they are an essential tool for them. The brass instruments that are most commonly used in the orchestra are trumpet, French horn, trombone, and tuba. Deciding which one will be the best fit for you depends on the instrument's pitch, and in this buying guide, we will give you an in-depth overview of the instruments from this family. So, let us get into it.
Brass Instruments in Order of Pitch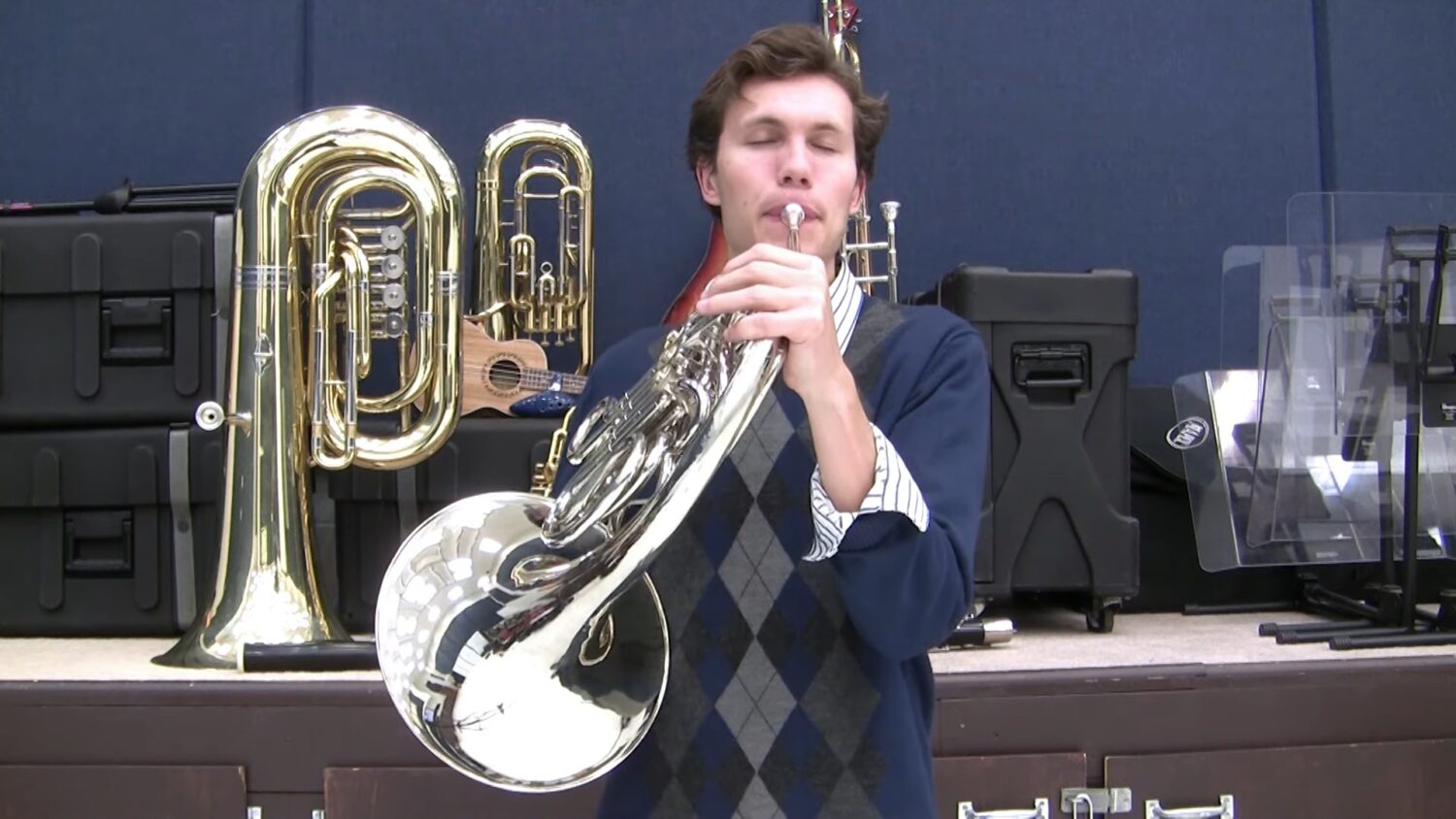 In order to pick the right brass instrument for you, it is necessary to know the pitch order and features that each instrument has. There are multiple brass family instruments, and the degree of difficulty in playing them varies. Here is a list of essential ones.
Tuba
Euphonium
Cornet
Trumpet
Trombone
Flugel
Horn
There are many more instruments from this family, like bugle and mellophone, but we will focus on the main four brass instruments that every other brass instrument spawned from, and these main four are tuba, trombone, trumpet, and French horn. We will list them in order of pitch – from highest to lowest.
Trumpet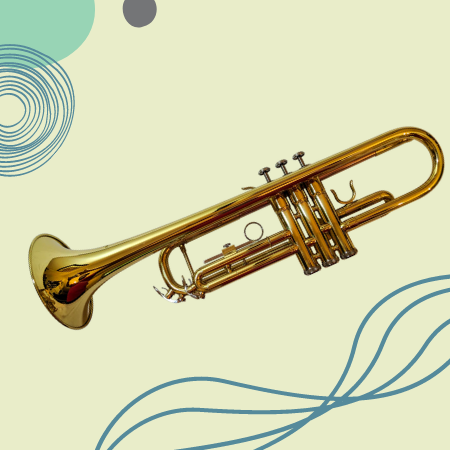 This instrument is highly versatile due to its ability to play various pitches. It can go very high and very low and makes truly stunning sounds. What is really great about trumpet is the fact that you can master it much easier than most brass instruments.
Trombone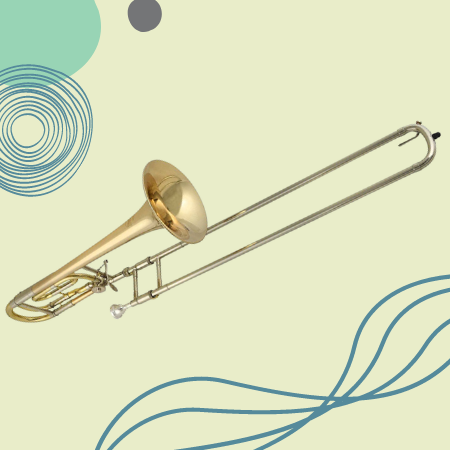 A trombone provides a strong and steady sound for a lead and calming background noise for the rest of the band. It is able to execute solos and background music in various styles. This is an instrument that grants musicians a lot of freedom, and with some practice, the options are virtually limitless.
French Horn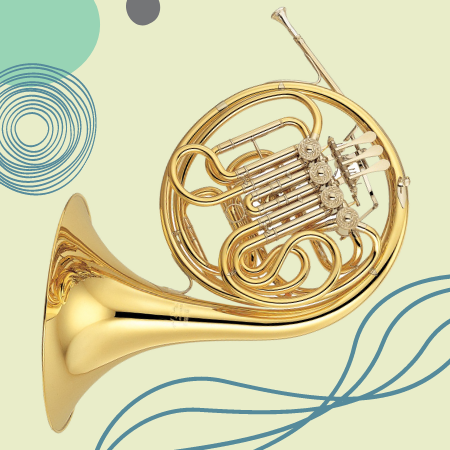 The French horn is aesthetically by far the prettiest brass instrument you will encounter. It has a soothing and mellow sound that helps to hold the band together. Even though it has a unique sound, it is difficult to play it, and if you do not pay enough attention, the tone may easily crack.
Tuba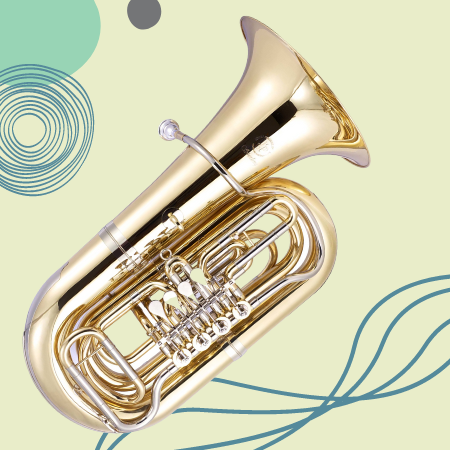 A tuba is considered the grandfather of the brass family and is the largest and lowest among them. Tubas range in size from nine to eighteen feet, and the longer they are, the sound gets lower. They are superior to all other brass instruments as they are foundations for nearly all chords with their beautiful and melodious sound.
List of Best Low Brass Instruments
1. Conn 8D CONNstellation Series Double Horn Nickel Silver Fixed Bell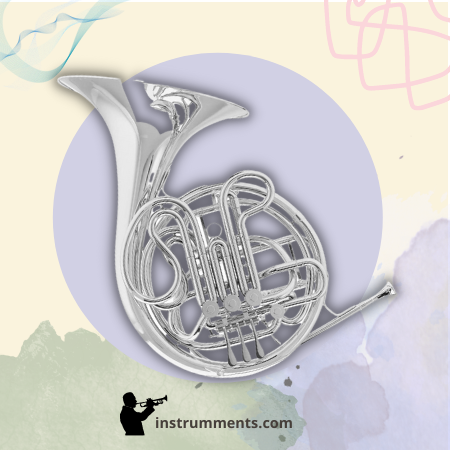 This beautiful double horn comes from the Conn store, and although it is quite expensive, it is an excellent choice for advanced players. It gives you a high-quality sound and amazing and powerful output that every horn player is looking for and is one of the main reasons why pros use it.
It features a 12-¼-inch large throat bell and a beautiful nickel finish. The instrument is designed for superb control and intonation, and it is one of the best horns you will find as it produces dark, rich, and resonating sound. It is very easy to handle, and you will get a natural feel to it in no time.
What truly separates this product from the pack (apart from the price) is that it provides superb control and intonation. It is what every pro needs and then some. The grip is rather large, which might be an issue with players with smaller hands. However, it is a great horn, and all the major solo and orchestral works sound like they were made for it.
2. Mendini By Cecilio Bb Trumpet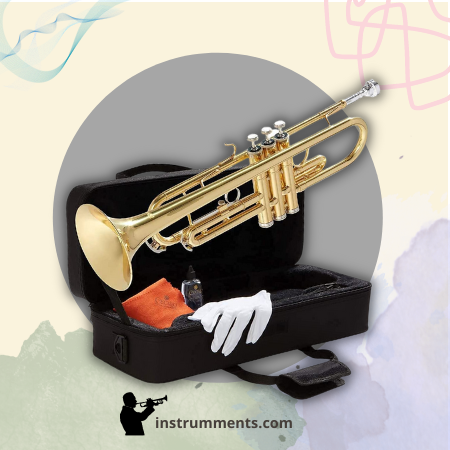 Coming from the Mendini By Cecilio store, this trumpet comes in a gold color and is packaged with a maintenance kit. It is a great instrument that comes with a very low price tag and is suitable for beginners and advanced players alike.
The trumpet is elegantly designed and made of brass and copper. It boasts three slick action valves and provides amazing sound going from very high to very low pitch. The instrument's brass body is highly durable and can take quite a lot of beating. The mouthpiece is made of phosphorous copper, which feels very comfy while playing.
This particular product is a great tool for learning how to play, and the valve action is pretty good, especially when you consider the low price. The care kit also includes a hardshell case, a silver-plated 7C mouthpiece, and accessories such as a polishing cloth, a pair of gloves, and a bottle of valve oil. It is more than enough to prolong this trumpet's lifespan.
3. Eastar Trombone ETB-330 Tenor Slide Trombone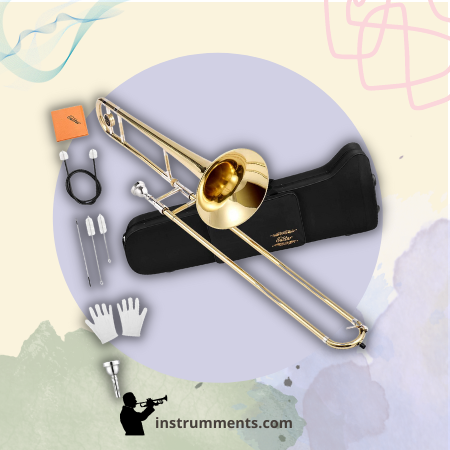 With its penetrating and accurate tone, this trombone provides everything you need from a quality brass instrument and then some. The construction, fit, and finish are very good, and the price tag is more than affordable. Moreover, it is a great instrument for beginners since it is lightweight yet robust enough to withstand handling from inexperienced hands.
The tone this trombone produces is mid-range heavy and very full, so it will not cut through, which is very important. The case in which the instrument arrives is nicely built and very sturdy and protective. The tone is accurate and bright, thanks to a well-crafted body.
The ETB-330 has a durable body and is much more wear-resistant than most of the instruments in the price range. The inner tube has two layers of coating, while the furthest layer is plated with metal chromium. The product comes with a standard care kit, so you will be able to maintain it right from the get-go.
4. Mendini MEP-L Lacquer Brass B Flat Euphonium with Stainless Steel Pistons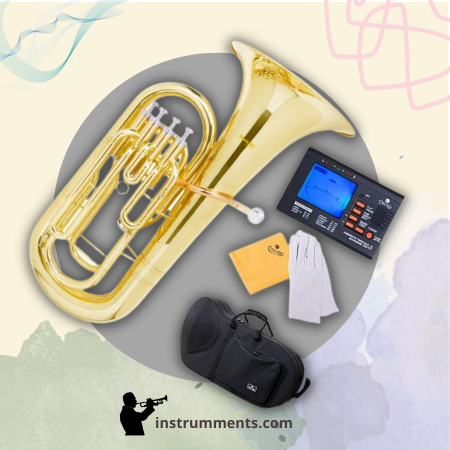 Featuring a lacquered yellow brass body and rose-brass lead pipe, this euphonium is an excellent choice for beginners and advanced players alike. It is a lightweight yet fairly sturdy instrument and boasts four stainless steel top action pistons.
The product comes in a fabric-covered hard case that aesthetically looks very nice and is quite sturdy and durable. The euphonium itself looks very solid, and the nickel plating on it is stunning. However, the biggest selling point is the instrument's sound which is full and rich, and it comes as a surprise when you consider the price.
The package includes a silver-plated mouthpiece, hard case, polishing cloth, a pair of gloves, and a tuner with a metronome, which is a welcoming addition. The overall quality and sound are excellent, and this instrument is an excellent choice and a starting point for anyone that wants to learn to play euphonium.
5. Ashthorpe Bb Baritone with Stainless Steel Pistons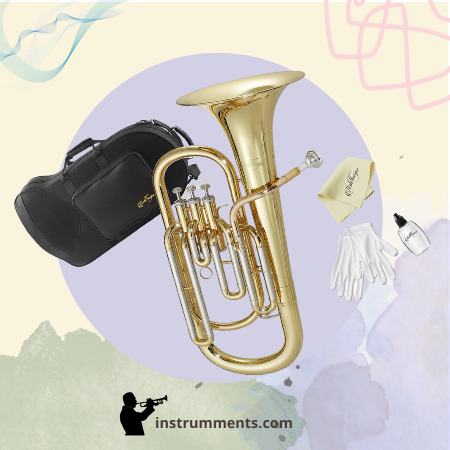 This baritone is aesthetically a beautiful product, and it comes in a nice and sturdy case. It is a great instrument for beginners and advanced players. Right out of the box, the valves will require some adjustments and lubing, but you will get the hang of it in no time.
The design of this baritone is very lightweight, so it is a perfect choice for inexperienced hands. It is also a nice fit for intermediate musicians, as it provides a soothing tone and overall pretty good sound output. Moreover, it comes with an affordable price tag, which is always nice to see.
This instrument has a solid brass construction and an excellent golden lacquer finish. The design of the baritone grants powerful, rich, deep, and penetrating sound. The case is well-constructed, and you also get a nice little maintenance kit for some extra convenience.
6. Mendini Intermediate Key of F/Bb Double French Horn
One of the main concerns when purchasing a French horn is actually regarding the case in which it arrives since this instrument is notorious for its big bells that get crumpled. Luckily, this product comes in an excellent case with firm interior padding and shock-absorbing properties.
The French horn itself looks beautiful and has a very rich and deep sound that every player requires. It boasts lacquered yellow brass bell and body alongside four solid rotors with string lever action. You also get nice accessories alongside the product, including a chromatic tuner with a metronome, a silver-plated mouthpiece, a hard case, a polishing cloth, and a pair of gloves.
This instrument is an excellent choice for students, beginners, and intermediate players alike. All of the valves move smoothly and without issues or defects. The horn is visually appealing, and given the fact that the sound is on point and the price is very reasonable, you should definitely check it out.
7. Jean Paul USA TR-330N Trumpet, Standard Nickel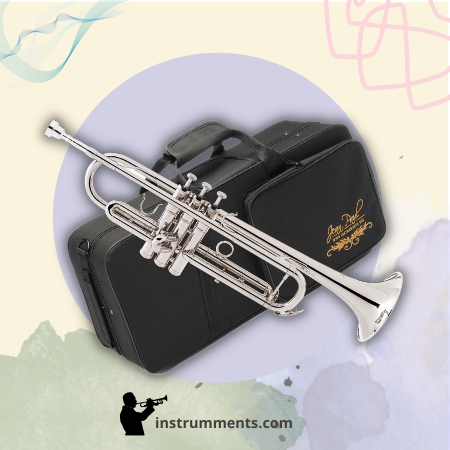 Coming from the Jean Paul USA store, this trumpet provides well-centered and warm tones and is quite versatile. It also comes with plenty of useful accessories, including a sturdy carrying case, valve oil, gloves, polishing cloth, and a mouthpiece.
This is a very solid trumpet and produces a very clean sound that packs a punch that is similar to much more expensive instruments. It is a very well-put product that grants exceptional value for the cost. The trumpet's finish is flawless, all slides work adequately, and the tone is very bright.
The mouthpiece is a perfect fit and is very comfortable for playing even throughout extended sessions. This instrument is a great choice for beginners since it is easy to play and even easier to clean and maintain. In addition, the sound is very good, and the valves are very smooth, so you should definitely give this product a chance.
8. Mendini by Cecilio Trombone Kit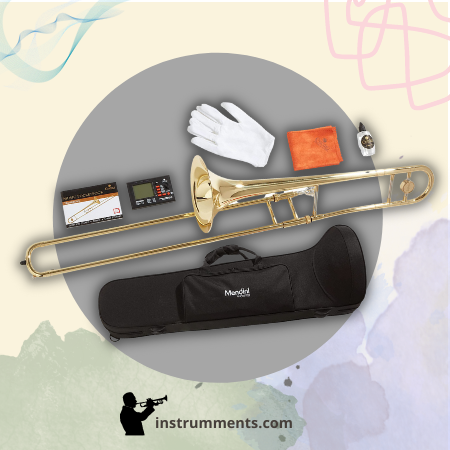 This trombone is another great product coming from the Mendini by Cecilio store. It is a beautiful instrument that you can get for more than a fair price. The lacquer is fashionable, the slide moves freely and effortlessly, and the instrument plays very well.
The one downside that is worth pointing out is that the oil which comes in the package is not particularly good, and you should try using some other brand. We highly recommend the Yamaha slide oil for these purposes and will free up the slide to its fullest potential.
The trigger is not the smoothest, but it functions well and does the job. It is a great trombone and is particularly serviceable for beginners, although advanced players will enjoy playing on it as well. Since it comes with a price tag that is just under 200 dollars, you should definitely give this instrument a chance.
9. Eastrock Black Brass Standard Bb Trumpet Instrument with Carrying Case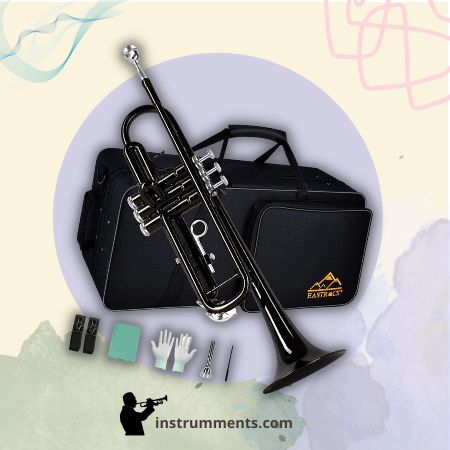 This beginner's Bb trumpet comes from the Eastrock store and is available in eight different color variations for you to choose from. It boasts a very solid and durable yet lightweight brass body and grants penetrating, rich, and deep sound with powerful vibrations.
The product comes with a carrying bag and a pretty standard maintenance kit, including a polishing cloth, gloves, a 7C mouthpiece, and gloves. For the price, it is an excellent trumpet, especially if you are on the fence about it but cannot afford to rent or purchase a higher-quality one.
Right out of the box, you will notice that it is a well-constructed instrument, and although the parts of it will not move freely at the start, you should spend some time researching and finding the adequate oil, and you will be all set. The valve oil that is provided might not be the best fit, so make sure to find the appropriate one.
10. Queen Brass Sousaphone 25 Valve Big Tuba Made Of/Full Brass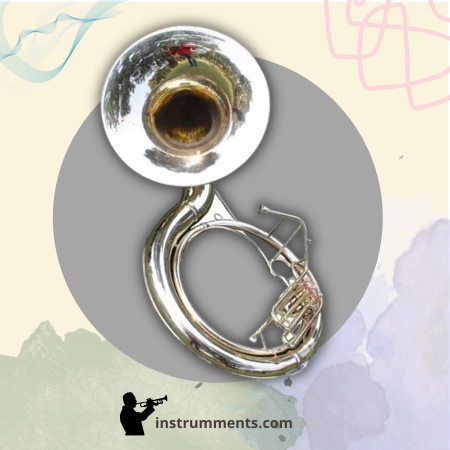 For those who do not know, a sousaphone is a type of tuba designed to fit around a player's body, supported by the left shoulder. It is a valved brass instrument coming from the Queen Brass Nautical Mart store and has the same tube length and musical range as other tubas.
The valves are situated directly in front of you when playing, and the bell is detachable from the instrument body to ensure easy transportation and mobility. Considering the fact that this is a 25-valve sousaphone, the overall playing experience is truly extraordinary.
This instrument meets all the expectations and then some. It is a perfect learning tuba; however, the valves might feel too hard, and you might feel slight discomfort in the neck area. Other than that, it is a great product and is well worth checking out.
Frequently Asked Questions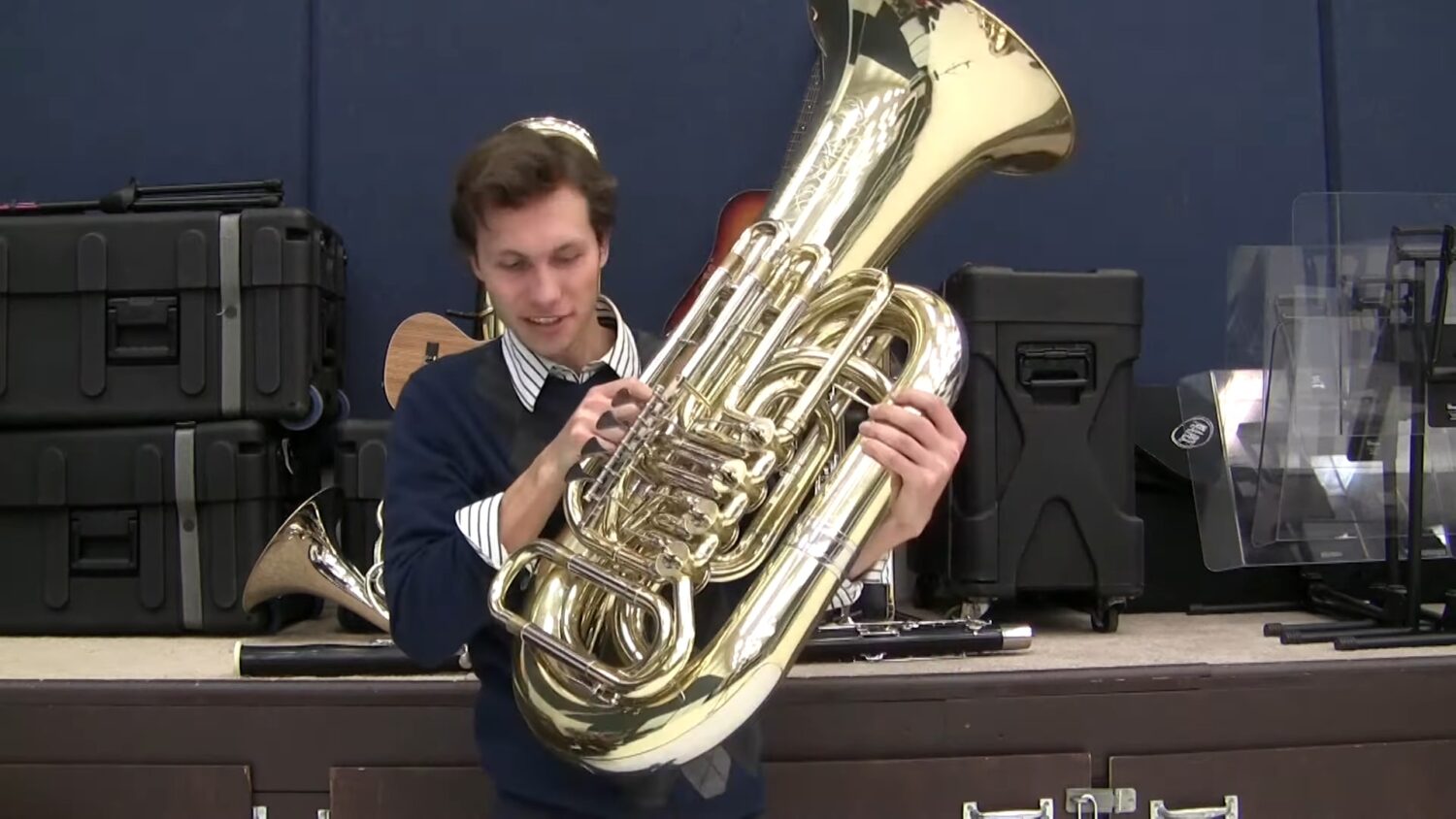 What is a brass instrument?
Although most brass instruments are made of brass, it is not the main factor that determines the brass instrument. One thing that separates it from other instruments is the way it plays. You produce the sound by vibrating lips, and mouthpieces amplify and focus the sound produced by those vibrations.
Is trombone low or high brass?
The trombone is considered a low brass instrument. Most of the music written for trombones is written in the bass clef, as opposed to the higher treble clef, which is more suitable for higher instruments.
What are the low brass instruments?
The low brass instruments are whole-tube and can play the fundamental tone of each harmonic series easily. Some of the most recognizable instruments from this family are trombone, tuba, euphonium, horn, baritone, and many more.
Which low brass instrument is most versatile?
This is a tricky question since multiple musicians will likely give you different answers to it. However, from solo jazz band to concert band or orchestra, the tuba is considered the most versatile since it is the largest and lowest-pitched instrument.
Which brass instrument is the smallest-sized?
The smallest instrument in the brass family is the cornet. It is highly popular, and one of the most played instruments among brass musicians.
What is the easiest brass instrument to learn?
This largely depends on your feel and the amount of practice you invest in. The general opinion is that the trumpet might be one of the easier brass instruments to master due to its lightweight, but this is not a rule.
Final Words
When picking an ideal low brass instrument, make sure that it is suitable to your size, budget, and, most importantly, taste. With sufficient amount of practice, you will be able to make any instrument work for you, and you are going to be able to produce excellent sound even on cheaper and lesser instruments.
We hope our guide was informative enough to help you make the right choice when shopping for brass instruments. Consider looking for second opinions, customer reviews, and ratings, as they will help you reach a better understanding of the instrument's quality, longevity, and important features.